Sicilian Cuisine
Insalata Siciliana - Classic Sicilian Salad
Citrus meets the sea in this delicious salad - so Sicilian!
Preparation time: 20 minutes
Print recipe
Ingredients für 4 Personen
500g oranges
100g anchovies in oil
2-3 shallots
200g olives (green and black)
3-4 celery stalks
oregano
olive oil
salt and ground peperoncino (or freshly ground black pepper)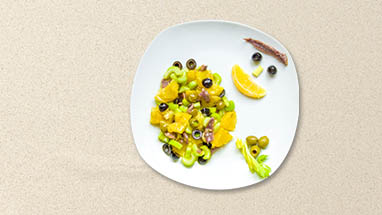 Peel the oranges and cut into halves. Mix the anchovies with the celery and shallots cut into pieces (not too small). Note: instead of celery you can substitute fennel.
Mix everything together with the olives. Add olive oil and season with salt, peperoncini, and oregano.
Then have it with fresh white bread and a Sicilian sparkling wine made from fine Grillo grapes.
Author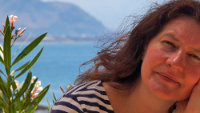 The information on this site comes from our Sicily expert Britta Bohn.
Britta has been dealing with daily life and life in Sicily for over 20 years.
Don't miss any of her tips! Subscribe to our free Newsletter:
Dear friends of Sicily, we invite you to join the Facebook Group "Trip-Tipp Sicily". Find answers to all your questions and discover exclusive tips for your trip to Sicily from those who have already made the journey and those who already know the island from the inside out:
Sicilian Cooking while on holiday