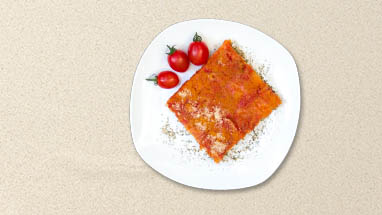 Using a machine (dough hook) knead the water, flour, yeast, and malt for 10 minutes. Add olive oil and salt and continue kneading for 5 more minutes. Using your hands, shape the dough into a ball and leave it covered in a warm place until it has doubled in size. Move to a deep baking pan and leave it alone for about 30 minutes.
For the toppings, cut the onions into rings, fry briefly in olive oil on a low flame, add 50g of water and boil for 10 minutes. Add the peeled tomatoes, salt them, and simmer for about 30 minutes on a small frame uncovered.
Sprinkle the Caciocavallo or the buffalo mozzarella, grate the Pecorino (if you haven't already), break or cut the anchovies into smaller pieces and dab dry on cloth or strong paper towel. Spread the ingredients over the dough, then spread the tomato sauce on top. Sprinkle with breadcrumbs and oregano. Bake at 200 degrees for 30-40 minutes in the oven.
Try this together with a green salad and a strong Sicilian red wine like Nero d'Avola.