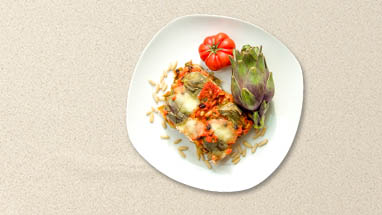 Prepare the artichokes this way: Start by filling a bowl with a water/lemon mixture.
Bend the artichoke leaves outward one by one and cut off everything except the soft lower part. Do this until you reach the soft delicate inside, the heart, keeping in mind its better to have too many leaves than too few. Once the heart is reached, the tip of the artichoke is cut off so only the delicate part remains. It's this part that you put in the bowl with the water/lemon juice mixture so that it doesn't become too black.
Cut the artichoke hearts lengthwise into thin slices and blanch in salt water for 10-15 minutes.
While the artichoke hearts are soaking, chop the onion and sauté it in olive oil. Then add the other ingredients and process it down into a homogeneous paste, stirring continuously for about 10 minutes. (If it is too liquidy, use more breadcrumbs; if too firm to add the artichoke, add boiling water). Season with salt and pepper. Cut the mozzarella into slices.
Grease a baking sheet with oil and cover with a layer of artichokes. Then add a layer of the paste, and again a layer of artichokes. Finally add another paste layer and bake in the oven for about 15 minutes. Then cover with mozzarella and bake for an additional 10 minutes.
Try eating this delicious dish with tomato salad, fresh white bread, and a beer.