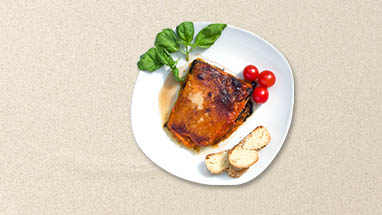 Cut the eggplants into slices about 1 cm thick. Place them in salt water for roughly an hour.
While the eggplants are soaking, prepare the tomato sauce. Simmer the small tomatoes in 1/4 glass of water for around 20 minutes. Pour tomatoes through a sieve or mash well. Add the tomato puree, salt and pepper to taste, and the basil, then simmer for another 20 minutes until the sauce is smooth, stirring occasionally.
Drain the aubergine slices, squeeze a little, and dab dry with a cloth or a strong paper towel.
Heat plenty of oil in a frying pan, and fry the eggplant slices. Do not stack them. Remove from heat and dab oil from slices. Place the eggplant slices and tomato sauce in layers. The last layer should be sauce. Sprinkle with the grated parmesan. Cover and place in preheated over (180 degrees Celsius) for around 20-30 minutes or until golden brown.
Try serving it with fresh white bread and a strong red Sicilian wine made from Nero d'Avola grapes.