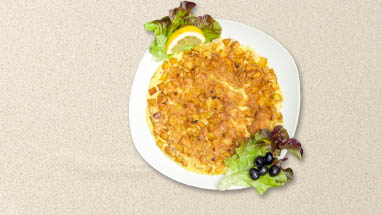 Cut the potatoes into cubes of equal size. Heat a pan of olive oil and fry the potatoes.
Dice the onion. Beat eggs and season with salt and pepper. When the potatoes are almost fried, add the onion and fry them gently until transparent or waxy in appearance. Add the eggs, let them cook at medium heat until thick. Then flip using a large plate if needed.
When it is golden brown, it is finished. Serve warm or cold. To really enjoy it, serve along with a mixed salad with vinegar and oil marinade and a strong Sicilian wine from the countryside.
Stay updated! Subscribe to our free Newsletter.