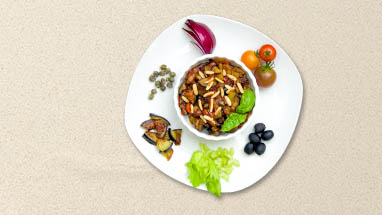 Wash the celery, cut off upper and lower ends, cut into fine strips. Finely chop the onion and garlic. Wash the eggplants, chop them and subdivide. Dice the tomatoes into small pieces.
Whip the eggplants in two portions of 2 Tbsp olive oil each. Remove from the pan, heat the remaining 2 Tbsp of olive oil, briefly brown the onion and the garlic, add the celery, tomatoes, and the eggplant. Add salt and pepper and simmer for five minutes at medium heat with a closed lid.
As you wait, halve the olives, wash the basil, and rinse the capers. Add these ingredients as well as vinegar and sugar, and continue to cook for 15 minutes, stirring occasionally. In a small pan, roast the pine nuts and sprinkle them over the dish before serving.
Want to make this dish even more incredible? Serve with delicious Mafalda bread and a strong Nero d'Avola red wine.